Welcome to our first bulletin. HART has come together as a group of UK independent senior scientists, professors and doctors, clinical psychologists, economists and other representatives of relevant disciplines, with many years of experience in the NHS, private practice and academia.

Our aim is to find the common ground between the Government and groups that are concerned about COVID-19 restrictions. We want to bring all sides together and to widen the debate in order to formulate an exit strategy that benefits everyone in society. We hope you find this bulletin useful. We intend to be topical and cover matters as they occur and evolve.
Cases are falling
New cases per day appear to be falling rapidly across large parts of the world, regardless of lockdown policy, extent of vaccination and geography. It is not clear what is driving this change.
We suggest devoting more resources to understand this complex phenomenon. It is important to be aware of the risk of incorrect attribution, such as assuming it is due to particular interventions.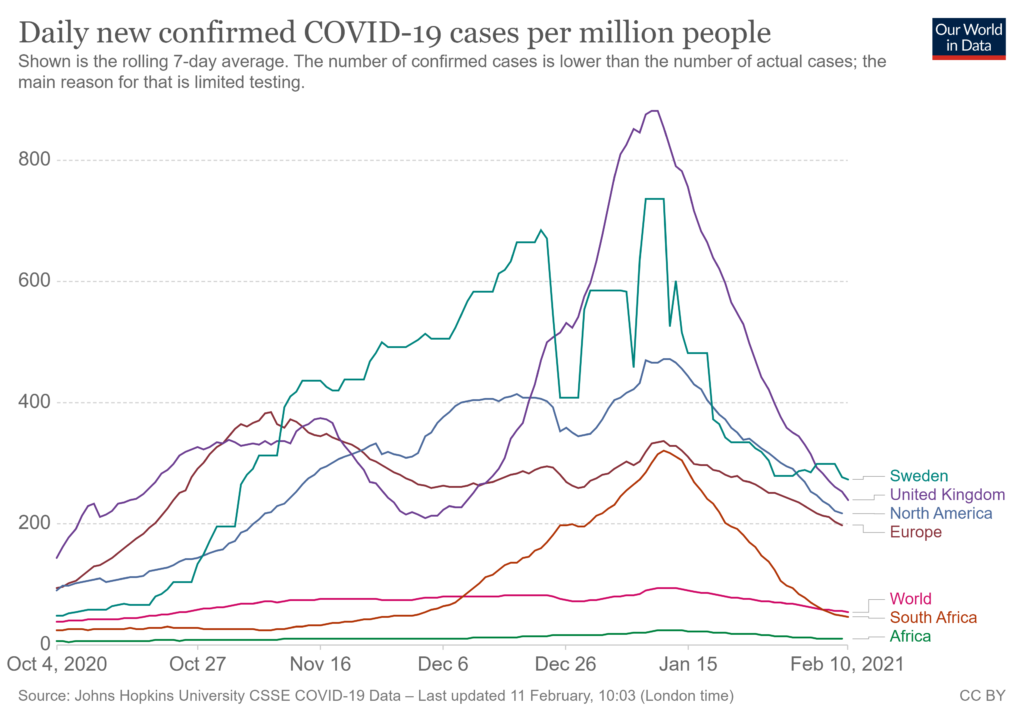 Re-opening schools
In the UK, the timing of and required steps for re-opening of schools continues to generate much debate.The inability of children to attend schools exacerbates an already clear educational catastrophe for the young. It is important to note that primary schools in Sweden have never been closed and those in Denmark only briefly. All junior and the majority of secondary schools are now open across France.

The published evidence is quite clear and has been for some time. Public Health England have already said that it is safe for primary schools to reopen. Children are not at elevated risk from attending school and teachers as a professional group are at the lowest risk end of the range compared with almost all other occupations. Please see our HART summary on harms to children for further information.
Non-pharmaceutical interventions (NPIs)
UK policy, while awaiting vaccine rollouts, has rested heavily on NPIs, despite the bulk of them lacking good quality evidence supporting their effectiveness.
It is perhaps not widely known that a number of these NPIs including lockdowns and border closures were, as recently as 2019, explicitly not recommended by the WHO.They were also advised against in the Government's pandemic plan, which was prepared in 2011 and reaffirmed in March 2020.
Exploring the utility of existing medicine
In addition to vaccines and NPIs, the potential of existing medicines, approved for a variety of other medical conditions, should be explored rigorously. It is very common that medicines have utility in multiple disorders. The UK has seen encouraging signs that glucocorticoids could be useful when treating severe disease and HART would encourage more research in this area. Evidence has strengthened that population-wide use of Vitamin D (4000 i.u daily) could reduce illness and deaths from COVID-19; we hope trials will continue so opportunities for cost-effective treatments and preventions are not missed.

Meanwhile, it is clear that inhaled steroid (budesonide), in the same dose and form as used for decades to treat chronic asthma, has substantial utility.

There is also now gathering evidence for clinical utility of the off-patent anti-parasitic agent ivermectin, which has shown benefit both as a preventative treatment as well as in patients already unwell with COVID-19. This is an avenue worth pursuing.
Understanding immunity
This week, Health Secretary Matt Hancock announced mandatory quarantines for travellers returning to the UK from 'hotspot countries'. HART believes that these measures and that of closing international borders will not stop new 'foreign mutants' of the virus circulating in the UK and represents a misunderstanding of immunity. As Patrick Vallance said at the press conference on 10 February 2021: "We are seeing the same variants popping up all over the world and that is what you would expect."

SARS-CoV-2 is a very slowly mutating virus, compared with influenza for example, which completely changes its outer coat inside a year. This virus has altered, at most, 0.2% of itself in a year. You can read more in our briefing paper.