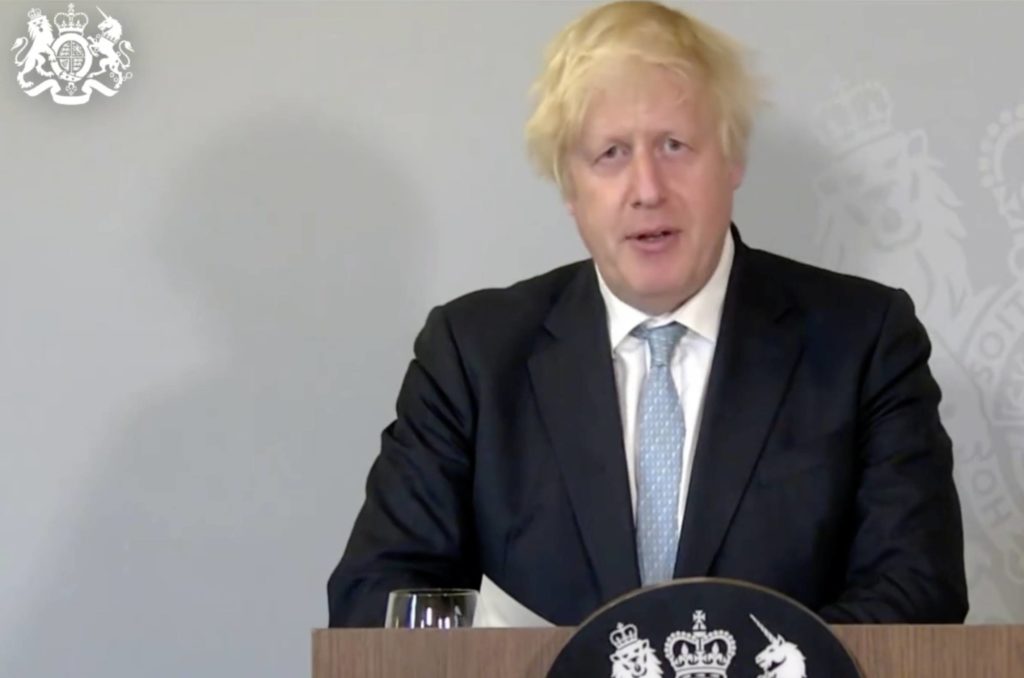 ---
The Prime Minister's speech on Monday was lamentable both in terms of delivery and content. On the day that was meant to mark an irreversible unwinding of restrictions that should never have been in place — let alone legally enforced — this erstwhile champion of civil liberties was a shadow of his former self, isolating due to ridiculous rules that serve no useful purpose: a charade that he seems all too willing to go along with.
But it was the content of his speech that appalled, and shows the murky depths to which we have descended. Spuriously highlighting "the continuing risk posed by nightclubs" — without managing to produce any evidence, anecdotal or actual, of what 'risk' these dens of iniquity might be posing — Johnson then announced that "some of life's most important pleasures and opportunities are likely to be increasingly dependent on vaccination", a disingenuous assertion, as if the Government has its way this will actually be the case from September onwards, with plans to "make full vaccination the condition of entry to nightclubs and other venues where large crowds gather". Will churches, hospitals, pubs, village halls, libraries be next? Apparently, we "need to do the socially responsible thing" and keep up with the neighbours… after all, in France you may soon need to be vaccinated to go shopping. 
It is increasingly difficult to accept these contorted pronouncements masquerading as reasoned scientific discourse, let alone the twisting of moral, ethical and compassionate arguments. This isn't the thin end of the wedge, it is carving society up into opposing camps. Divide and conquer. And to what end? Eradicating endemic viruses is not a panacea, as "Zero Covid" New Zealand is discovering as it battles a terrible seasonal respiratory disease epidemic.
But back to the duplicity at hand — vaccine passports:
March saw a debate in Parliament as a result of a petition — now signed by over 375,000 people — demanding that Covid passports should not be rolled out. The debate is worth re-reading in full, particularly the Government's closing remarks which strikingly contrast with Penny Mordaunt MP, who noted: "the very clear statements that the Prime Minister has made on that subject — that no one should be coerced or forced to take the vaccine; it is a personal choice".
In June 2021, the House of Commons Public Administration and Constitutional Affairs Committee found that they would "disproportionately discriminate against people on the basis of race, religion and socio-economic background" and that "there is no justification for engaging in what is likely to be a significant infringement of individual rights by introducing a Covid-status certification system and given the absence of convincing scientific case and the large number of uncertainties that remain, we recommend that the Government abandon the idea of using a Covid-status certification system domestically".
It is also worth noting that the Government's Call for Evidence received 52,450 responses, despite only allowing two weeks in March for contributions to be made: "over 99 per cent of responses were from members of the public writing in a personal capacity. Most individuals who responded to the call for evidence expressed strong views against certification, largely based on an assumption that certification would be based only on vaccination status (so-called "vaccine passports")". An odd statement with hindsight since 'most' of the responders were correct to make that assumption, as this week's announcement has shown.
Let us remember what the Prime Minister wrote a few years ago regarding mandatory ID Cards: "I will take that card out of my wallet and physically eat it in the presence of whatever emanation of the state has demanded that I produce it. If I am incapable of consuming it whole, I will masticate the card to the point of illegibility. And if that fails, or if my teeth break with the effort, I will take out my pen knife and cut it up in front of the officer concerned".
The aforementioned petition received over 10,000 additional signatures after the PM's speech. People know that these plans are wrong.
In an attempt to finish on an upbeat note, HART has the following recommendation to make to the Prime Minister: it is not too late to take a stand and be a strong leader. Apologise for mistakes made, and revoke these plans. Repeal the Coronavirus Act 2020 and allow democracy to function normally again.