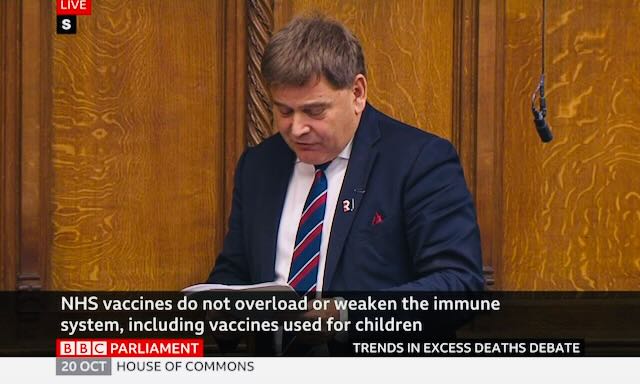 Also available on Substack – Come and join the conversation with open comments
All our readers will be aware that on October 20th, Andrew Bridgen managed finally to secure a debate on the Excess mortality which is occurring in the UK and across highly vaccinated countries in every continent. In the run up to the debate, HART joined in an open letter to all MPs urging them to attend and similar appeals were made by other groups most of which fell on deaf ears. In the end there were only 11 conservative and 2 labour MPs in attendance plus the Speaker. Excuses were many and various, but replies to constituents included:
"The vaccine efficacy has been proven beyond doubt. Only a small band of anti-science whackjobs in the conspiracy theory movement continue to peddle this rubbish."
"If you think I'm going to waste time listening to Bridgen drivelling on with his antivax nonsense, you have another think coming"
But there were also some more polite replies from parliamentary aides, such as:
"Thank you for your letter. Mike will be unable to attend Westminster due to other commitments in his diary. I will pass on your letter so he is aware you requested he attend."
And this from one of the MPs standing down at the next election, who had voted against lockdowns and mandates.
"Thank you for your kind words. I'm leaving in part because I've become disillusioned by events over the past three years. With best wishes." (I replied urging him to consider standing as an independent!)
Several HART members and friends went to the House of Commons in support where, not surprisingly, the members of the public greatly outnumbered the MPs, as witnessed by the cheering audible on video of the proceedings. Two members of staff were trying unsuccessfully though cheerfully to quieten our enthusiasm.  
Mr Bridgen, as always, spoke clearly and honestly, though rather fast (he had a lot to cram into 20 minutes!). He covered the data on numbers of excess deaths over time, by age group, by ethnicity and by deprivation scores. He covered the excess by various diagnostic categories. He covered the rise in emergency ambulance callouts and the rise in disability claims. He covered the international perspective. He covered the all-cause deaths in the Pfizer and Moderna arms of the original trials and the breaking of the blind trials. He covered the scandal of DNA contamination, highlighting the lack of proper oversight. As he said, "this might be the first debate on excess deaths in our Parliament—indeed, it might be the first debate on excess deaths in the world—but, very sadly, I promise you it will not be the last."
Maria Caulfield's reply has some glaring factual errors but she at least opened her speech with: "Can I start by acknowledging that the hon. Member is correct that we have seen an increase in excess deaths in the last year?" She went on to say, "Interim analysis from the UKHSA indicates that the number of deaths in England associated with flu was far higher than pre-pandemic levels", but what the report actually said was: "New interim analysis from the UK Health Security Agency (UKHSA) indicates that excess deaths in England associated with flu infection were higher (14,500) than the average figure (13,500) for the 5 years before the pandemic. This is the highest figure since the 2017 to 2018 season, when there were 22,500 excess deaths associated with flu." The idea that 1000 excess influenza deaths is 'far higher' or goes anywhere near explaining the acknowledged all cause mortality beats me.
She also stated that "the top three causes of excess deaths are respiratory illnesses, dementia and ischaemic heart disease". This was especially confusing, since the Office for Health Improvements and Disparities specifically showed that dementia deaths were below expected for most of the last 30 months (Figure 1).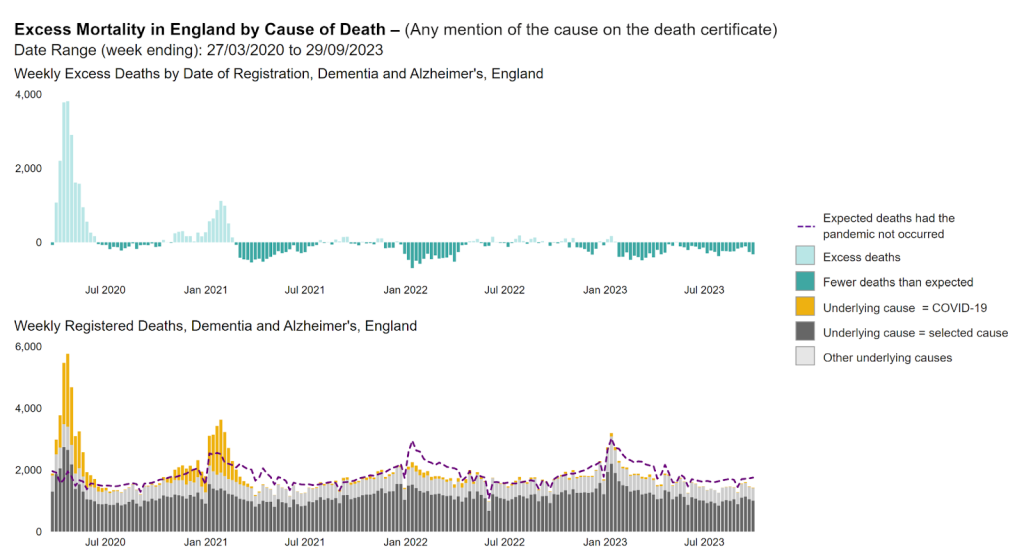 In terms of absolute numbers the biggest contributor to the excess was "other circulatory" deaths, followed by ischaemic heart disease and heart failure and it was heart failure topping the list of categories for excess deaths as a percentage above normal levels (Figure 2).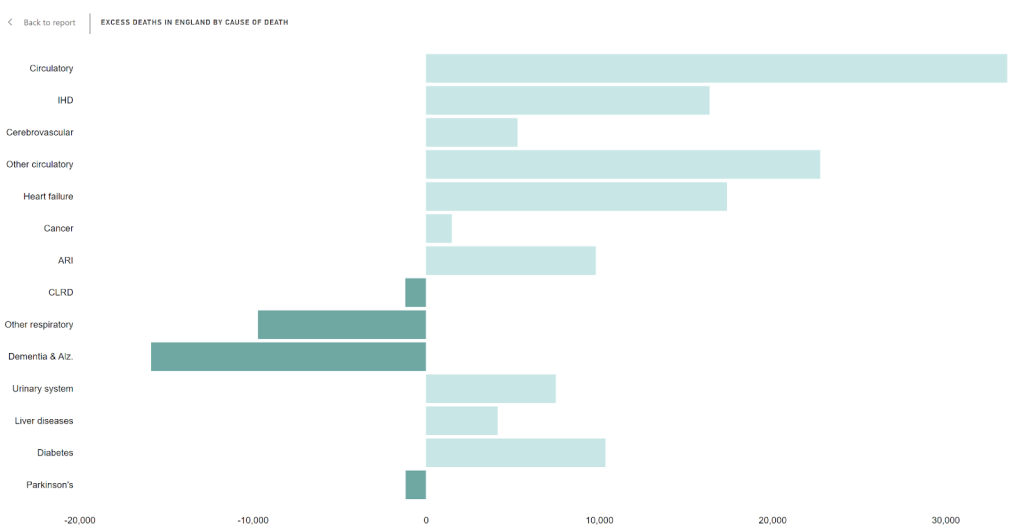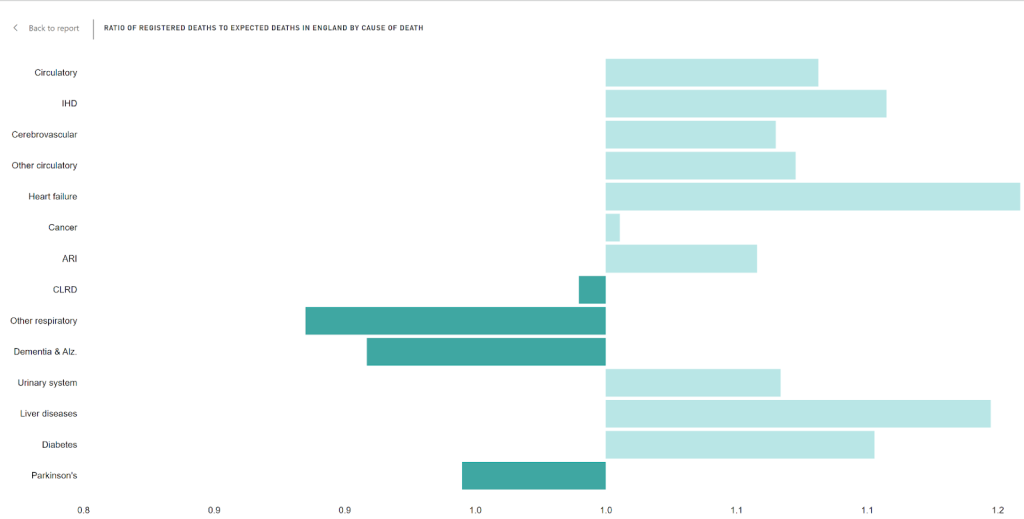 Ms Caulfield then went on to quote a study from Singapore on post-covid cardiac complications by vaccination status, which is discussed in detail elsewhere in this week's bulletin. But she did then say: "There is conflicting data on this issue, and I am not necessarily disagreeing with the hon. Member, but I think we need to have a robust conversation about it, not to assume that one side necessarily has all the answers." 
That is certainly a crumb there from our master's table! I hope she remembers she promised a robust discussion when this topic comes back for a full 3-hour debate.
Coming home at the end of the day, I watched the BBC Parliament channel and was surprised to see messages along the bottom of the screen extolling the benefits and of course safety of UK vaccines, including reference to autism and diphtheria and other totally unrelated items. Numerous people complained to the BBC about their lack of impartiality and here is their reply:
'It is normal practice for BBC Parliament to show what are known as 'story astons' (or captions) which put debates into context for viewers. They are not comments, but editorial context written by journalists working on the live output.

The first aston made clear to viewers that Reclaim MP Andrew Bridgen had tabled the debate. In accordance with the BBC's guidelines on due impartiality, the remaining astons reflected (and are attributed to) the majority medical and scientific view that vaccines are safe.'
I don't imagine the BBC have heard the last of it. * see Stop Press below
Mr Bridgen was back in Parliament on 24th October presenting the Parliamentary Sovereignty (Referendums) Bill under the '10-minute rule', which would prevent the UK government making constitutional changes without a referendum, and is particularly timely given the WHO Treaty changes for which our government have already showed enthusiasm, and which will, without actively withdrawing, be implemented in May 2024. Mr Bridgen's Bill has its second reading on Friday 24th November.
The whole of Andrew Bridgen's 20th October speech, as reported in Hansard and including all the charts and references which he supplied to the press, was published by HART the following day, when no-one in the legacy media had covered the debate. We have also included links to the full Hansard report and to the live debate itself. This has now been sent to every MP, particularly for those who failed to attend.
We would encourage HART readers to send it to their own MP, thanking them if by any chance they attended, and either way asking them to read all the supportive data with an open mind and ensure they attend the full 3 hour debate on Excess Deaths when it is timetabled.
**STOP PRESS: 3rd November BBC Corrections and Clarifications
"We have reviewed our use of on-screen captions during an Adjournment Debate at the House of Commons called 'Trends in Excess Deaths'. There were concerns that the captions, which outlined the NHS guidance on vaccines for Covid-19 and other diseases, showed bias against Andrew Bridgen MP who was making a speech that challenged the Government's position on the safety and efficacy of the Covid-19 vaccines. It is normal practice to provide accurate information and context to these debates on screen and in this case it was an important aspect of our coverage due to the nature of the assertions being made in relation to public health. However, we accept that there was a lack of consistency in our use of these captions and that the number posted during the speech was not proportionate, nor always relevant, which created the incorrect impression that there was an editorial approach in relation to the views expressed. We apologise for this and are reviewing the way we use captions during such proceedings."